Peace Corps Commemorative Art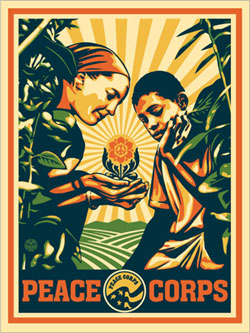 Shepard Fairey created the 50th Anniversary commemorative art especially for the Peace Corps.
Fairey is an American contemporary artist, graphic designer, and illustrator whose work is included in the collections at The Smithsonian Institution, the Los Angeles County Museum of Art, the Museum of Modern Art in New York, and the Victoria and Albert Museum in London. His iconic style is popular, bold and immediately recognizable. His street-art origins, which allowed him to become successful without the support of traditional gallery representation, reflect the grassroots culture of Peace Corps Volunteers. Fairey has a personal connection with the Peace Corps through his sister, who served as a Volunteer in Togo. The commission of this artwork was made anonymously by active members of the RPCV community.
Press Release on the 50th Anniversary Commemorative Print
Learn more about Shepard Fairey, the commemorative print, and the photograph that inspired it.
Last updated Nov 25 2013