Take Action Today – Donate to the Peace Corps
Looking for a gift with lasting value? Support the Peace Corps! One hundred percent of your tax-deductible gift will advance the Peace Corps mission of peace and friendship around the globe. From addressing important issues such as education, sustainable agriculture, and the prevention of malaria, to supporting key activities such as Volunteer training, your donation will help.
Why give? Your donation furthers the Peace Corps' legacy of over 50 years of service, integrity, and shared development solutions in communities where our Volunteers serve!

Donate to the Peace Corps today and be the proud owner of a donor recognition item.
Contact Us
Peace Corps
Office of Gifts and Grants Management
1111 20th St. NW Washington, DC, 20526
Phone
855.855.1961 ext. 2170
E-mail Us
Donor Recognition Items
Commemorative Art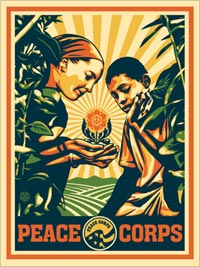 by Shepard Fairey - Learn more
Donations from $500 and above
Commemorative signed print
Limited Edition
signed and numbered
hand-pulled silk-screened print
18" x 24" on 80lb cover, French Cream Speckletone paper
Donations from $100 to $499
Commemorative unsigned lithograph
High-end offset lithograph
Open (unnumbered) edition
24" x 36" on 80lb cover, French Cream Speckletone paper
Donations from $20 to $99
Peace Corps Poster
22" x 30" full color
Quality poster stock
Standard frame size
Your choice of one of the following: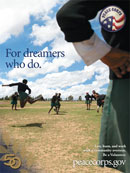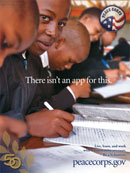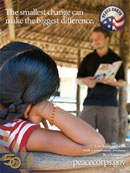 "For dreamers who do."
"There isn't an app for this."
"The smallest change can make the biggest difference."

Any donation of $10 or more
3 Stickers of the Peace Corps
50th Anniversary Commemorative Art
4" x 5.25"
Silkscreen on vinyl
Donor Recognition Items
Limited number available - fulfillment will be on a first come, first served basis.
Delivery - Please allow 4-6 weeks for delivery in the Continental U.S. For delivery to Hawaii, Alaska or overseas, please contact Office of Gifts and Grants Management at 855.855.1961 x2170 during regular business hours (EST)
or via e-mail at: give@peacecorps.gov.
Additional donor recognition items may be added in the future.
Items ship UPS ground.
Contributions made to the Peace Corps are tax deductible for U.S. taxpayers to the extent allowed by law under section 170(a) of the Internal Revenue Code (Peace Corps Tax ID Number # 52-1240194).
Last updated Nov 30 2012