Peace Corps Featured in Folklife Festival 2011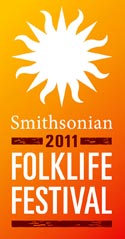 June 30—July 4 and July 7—11
National Mall in Washington, D.C.
This summer the Peace Corps was one of three featured programs at the free Smithsonian Folklife Festival. This curated exhibition was one of the highlights of the Peace Corps' 50th Anniversary commemorative activities. We were delighted to be part of an event that has been a summer staple in our nation's capitol for 44 years.
Folklife Links
The Peace Corps: Fifty Years of Promoting World Peace and Friendship, brought together Peace Corps Volunteers—both past and present—and many of the people with whom they served. Some of the highlights included:
Demonstrations
Performances
Presentations of food and cooking traditions
Hands-on educational activities
Volunteer and Staff Spotlights
A look at the Volunteers, host country nationals and projects presented at the Smithsonian Folklife Festival.
FolkLife Festival in the News
Last updated Nov 20 2013